You know the saying, the traveling knome, traveling wish #101, camping at Sugar Bay. Haha... yes, that was the text message I sent a friend, trying to convince her to come camping with us. We were there and had our tent popped up and ready for a weekend of fun. I am so glad we planned the camping trip. We camped at Sugar Bay, in LBL. (Land Between the Lakes) It was so much fun!!!!!!!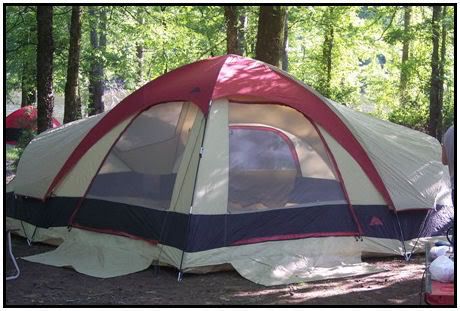 We had so many people to show up! It was a great turn out, not everyone camped, but some camped, some/all fished, some swam, and we had a fish fry that Sunday. From what I can remember, we had 30 something people, between everything. (Brent, myself, my mother, Donnie, Bubba, Monica(her Trent made an appearance), Steven, Lathan, Neita, Rexie, Caleb, Alyssa, Cameron, Amanda, Justin, Papa, Uncle, Christopher, Meemaw, Carolyn, Blake, Josh, Kim, Toshia, Devin, Adam, Leslie, Danny, their two girls, Terri, James, Kaylie(sp?), Bubba's friend Trent, Bobby, Steven, and I'm sure I'm leaving some out.
I am not going to even try to post all of the photos, but here is a picture of some of them swimming. It was beautiful all weekend, so the kids were enjoying playing in the water, this isn't half of the kids that were out there, at one point. But it's a beautiful shot.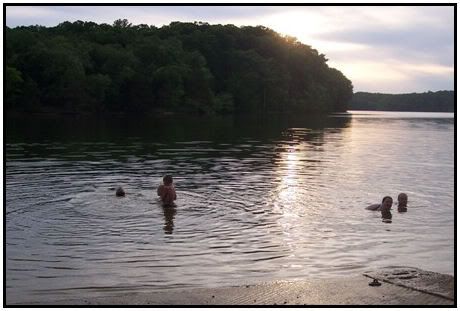 Justin, my brother in law, and his family, Amanda, Alyssa, Caleb, and Cameron, didn't get to stay for long, but they did come out for a few minutes. Caleb and Alyssa got to stay and camp and swim with Neita and Rexie at the camp ground. Sunday night, almost everyone left, but Brent and I, stayed one more night camping, with Donnie and Uncle. So we let Alyssa and my cousin Josh stay with us. They had fun swimming for a few more hours and were out early! Here is a picture of their family.
Brent and I, we only get to go home once or twice a year, because of his schedule. It's okay, but it's make it really hard to make up for lost time when we get to see them, so this camping event was something for us to have some fun, but yet get the whole family together. I had a blast. I really wish my sister and her family could have came.....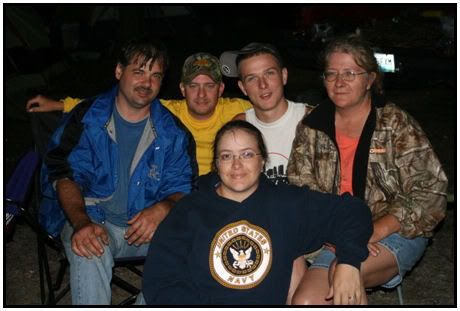 We did alot of fishing, this weekend for camping for perfect! It only cost $5 for anyone over 18 years of age, for three days. That is fairly cheap. There was NO running water, other than the lake, haha.... but there was a port a potty. Which was surprisingly clean. Fishing was fun, tho we didnt' hardly catch anything more than a few dozen perch, and a few small bass that weren't worth keeping. Now that I think of it, I don't think I caught even that. Bummer... but anyways, we had a couple of really lucky guys that Saturday night.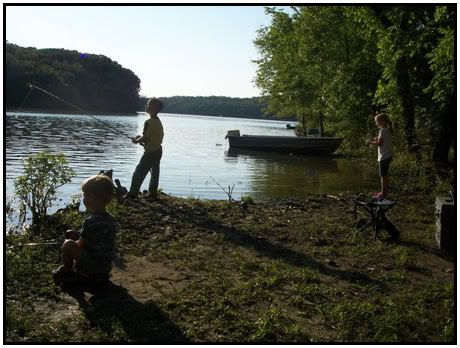 Donnie caught a 8 lb catfish on the other side of the bay, that took him probably 30 minutes or more walking thru woods and brush to get to.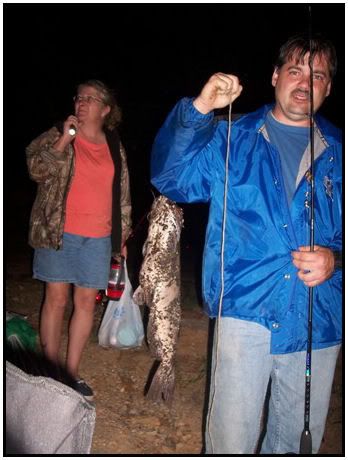 Monica, who I met for the first time this trip home, (she didn't come to the family xmas dinner.... hmmm mmmmm...) and two of her boys came camping. It was fun, too bad they couldnt' have came both nights, maybe next time. Anyways, her son, Steven caught a 7.1 catfish. It was so wild. He was so excited and ofcourse I was jealous, haha.. but it was a beauty and sure did taste yummy Sunday!!!!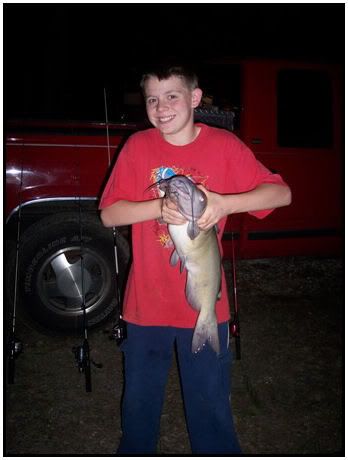 Monica and I talk on the internet, via Yahoo Instant Messenger, like almost everyday. She's going thru some issues right now, that I think with me being there, we've grown closer. We talk about anything and everything and we've been talking for a year almost. Monica is Brent's first cousin, but we found each other thru my cousins(her friend) myspace page. I really enjoy talking to Monica, it's gotten to where if I get an IM, or a text, Brent will be like, "is that Monica" or "oh, you're talking to Monica, arent' you." Haha... I love it. Anyways, it was our first time meeting, strangely enough, we both have the same pink hoodie, which I did NOT take with me, darn it... that would have made a great photo. Anyways, we had my mom take a picture of us with my big Canon. Obviously she was looking thru the WRONG hole.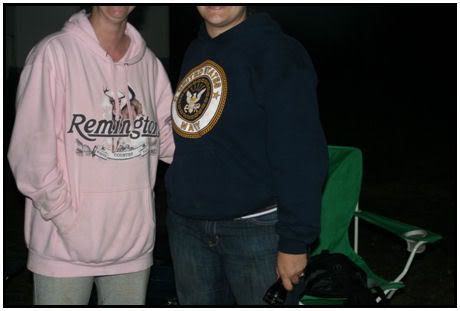 Thankfully, I checked the picture to make sure it came out good! I had to have her to 'retake' the picture and this time I instructed her on which hole to look thru while doing it. Haha.....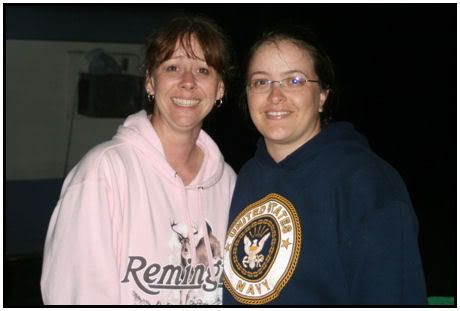 I have SO MANY more pictures I could share, but I won't share them here, I'm sure there is way too many, but if you're on my personal myspace page, feel free to go check them out!
I also attended one of my good friends, wedding Saturday, June 6th. I will post a blog for that soon!