I use to scrapbook growing up. It's was the poor mans scrapbooking, well, prolly more like before internet/computer age. Haha... I didn't have but construction paper and a photo album. I used old reciepts and photos and tickets and check stubs and cut contruction paper out to fit and glue and tape. I loved it. It doesn't look all that great. But I have my highschool years in a big scrapbook/album. I use to write in a journal everyday. It's what got me thru the day and to the next. I use to write poetry and just whatever came to mind. My poetry never made sense. It never sounded good. I just wrote. If I was troubled, I wrote. And I was okay.
When I met my husband, things turned around. I didn't need that outlet. I didn't have to escape. It's like he made everything better, slowly but surely. And over the last five years I have lost most desire to write and keep up a scrap book. That isn't bad, but it means I'm missing out on future memories for my children and grandchildren to look back on.
I've been wanting to start a journal, scrapbook for years now. I have a tote full of stuff to go through and deal with. I have ALL our wedding cards from Dec. 2004. I have every Christmas card we've ever gotten, and I always had planned on using them for a scrapbook. But doing things like that take time and quite frankly, this is the compute age. And I'm glued to this most of the time, that I'm at home and capable. Not good.. prolly why I have several extra pounds, but that isn't the point. Haha...
Anyways.. after talking to a great friend and family member, I've convinced myself to at least do something. I've started doing digital scrapbooking. I've been doing Paint Shop Pro graphics for a while. I've made myspace layouts for others and myself. I've made blinkies, and siggies for forums. I've just not had the energy or motivation to do scrapbooking. Thanks to Monica JO at
A Creative Oulet
I've finally gotten started with it. I have five years to go back thru and sort out. Needless to say, I will prolly only mark the biggest days of ours lives thru those five yrs. But hopefully in the future, I will mark more, using digital scrapbooking!!!
Since Valentine's Day was our last holiday, that is where I started. I will go back further, but these are the ones I started with. I want to share my first two pages of digital scrapbooking!!! (I used elements/kits found on
Stacey's
page along with a few others I already had.)
Page One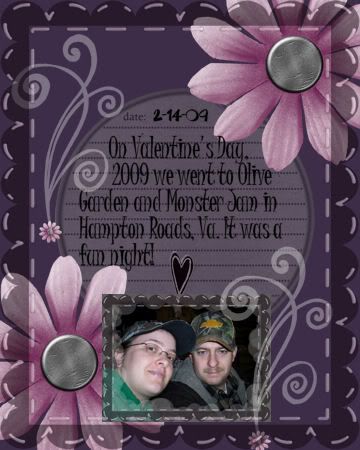 Page Two